NEWS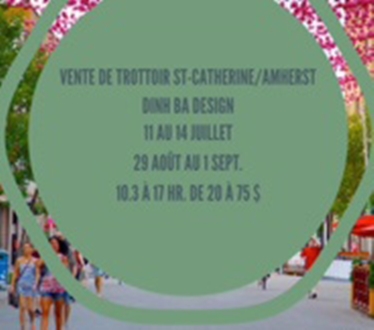 EVENT ON ST-CATHERINE ST.
corner Amherst
Piece's 20 to 75 $

Celabrate Summer

Pride Montréal made

Tuesday 11 to friday 14 july
10.3 to 5 pm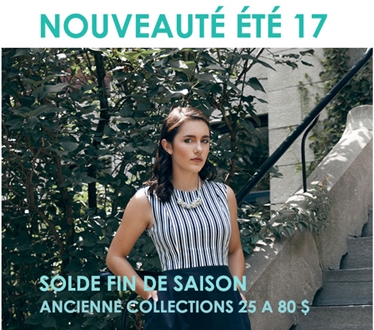 NEW ARRIVAL SUMMER 2017
BOUTIQUE DINH BA
1455 AMHERST

28 FEBRUARY TO 4 MARCH
tuesday wensday 10-18 hr
thursday friday 10-19hr
saturday 12-17 hr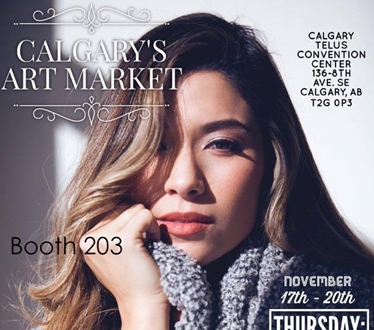 Calgary's Art Market
NOVEMBER 17-20th

thursday 10am - 9pm

friday 10am - 9pm

saturday 10am - 6pm

sunday 10am - 5 pm

Calgary Telus Convention Center
136-8th Ave. SE
Calgary, AB T2G 0P3 Canada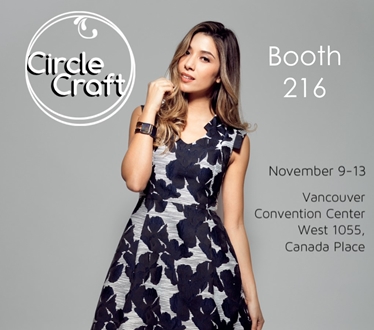 Circle Craft Winter Market
NOVEMBER 9-13

Wed - Fri 10am - 9pm

Sat 10am - 7pm

Sun 10am - 5pm

Vancouver
Convention Centre West
1055 Canada Place,
Vancouver BC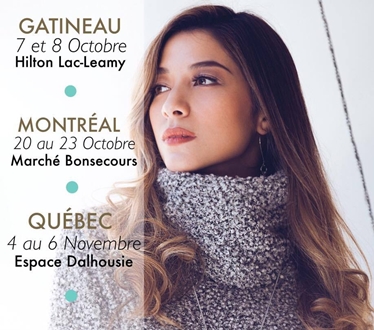 BRADERIE DE MODE QUÉBECOISE
Come to meet us during the following rummage sales:

GATINEAU:
www.braderiedemodequebecoise.com
/gatineau/localisation.htm

QUEBEC:
www.braderiedemodequebecoise.com
/quebec/localisation.htm

MONTREAL:
www.braderiedemodequebecoise.com
/localisation.htm
ONE OF A KIND SHOW AND SALE
Dinh Ba presents his new collection for spring/summer 2016 at the One of a kind show and sale
Come see him at booth O 44 in the fashion district from March 23rd to the 27th at the Enercare center exhibition place, Toronto.
For more informations go to : http://oneofakindshow.com/toronto/index.php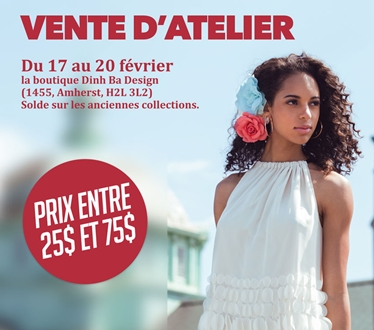 WORKSHOP SALE
Come see us at our store from Febuary 17 to the 20th to enjoy our sale on the previous collections and discover new pieces we have for spring/summer 2016.
We are open
Wednesday from 11am to 6pm
Thursday and Friday from 11am to 7pm
and Saturday from 11am to 5pm
at 1455 Amherts, Montreal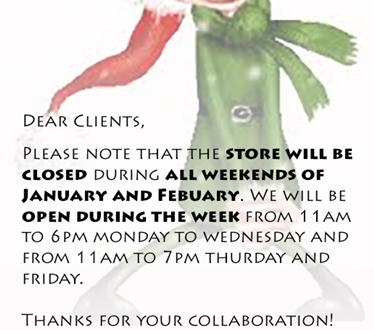 STORE OPENING HOURS
Dear clients,
Please note that the store will be closed during all weekends of January and Febuary. We will be open during the week from 11AM to 6PM monday to wednesday and from 11AM to 7PM thursday and friday.

Thanks for your collaboration!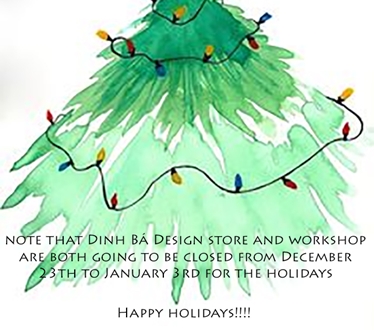 HOLLIDAY VACATION
Please note that the Dinh Ba Design store and workshop will both be closed from December 23th to January 3rd.


Happy Hollidays!!!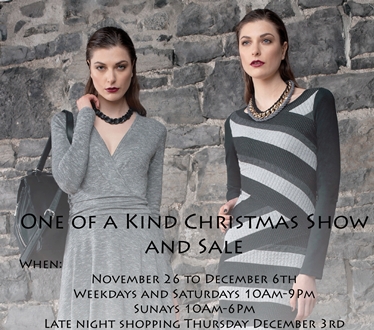 ONE OF A KIND CHRISTMAS SHOW AND SALE
Once more, we'll be at the One of a kind christmas show and sale!

When:
From December 26th to December 6th
Weekdays and Saturdays 10 am- 9 pm
Sundays 10 am- 6pm
Late night shopping December 3rd 10 pm- 11pm

Where:
Enercare Centre (Formerly the Direct Energy Centre)
Exhibition Place
100 Princes' boul.,
Toronto, ON, M6K 3C3

For me details check out their website.

ART MARKET
Find us again this year to the Art Market Show.

When:
Thursday , November 19th , 10am-9pm,
Friday, November 20 th , 10 am -9pm
Saturday, November 21th , 10am-6pm
Sunday, November 22nd, 10am-5pm

Where:
Entire 2nd Level of the Calgary Telus
Convention center, 13 6-8Th AVE SE
Booth number 921

For me details :http://www.artmarketcraftsale.com/artisans/a-z/index.php